What is Social Listening? Tools, Benefits, Case Studies [2022]
June 6, 2021 ・ 23 min read
Social listening lets you keep an eye on online mentions containing your brand name. You can listen to online conversations and never miss anything important. But what's next? How can you use social listening to your benefit? And why is it important to listen to conversations about a brand? All this and more in following article.
Social listening is a term that's virtually everywhere these days. Many people talk about it even more, are using it, but few have taken the time to explain it.
Undoubtedly, social listening can help you grow your business. Monitoring conversations around your brand can give you many insights to improve your presence on social media channels, help manage customer complaints, or track your competitors' movements.
But that's not all. The social listening strategy should be an indispensable part of your marketing activities.
How to create a strategy?
Do you need dedicated tools?
How exactly can you make sure that the social listening process helps your company?
And why is it important to listen to online conversations about your brand?
Hopefully, you can find the answers to all these questions in this article.
We also included a list of the top 9 tools and a bunch of case studies so that you can see the practical application of social listening.
You'll often hear the words data, analytics, and statistics attached to social listening, and while this may seem intimidating, it's really not that scary. You'll see how easy it is to manage below.
We covered both social listening and social media listening solutions in this article.
What is social listening?
Social listening consists of two parts — monitoring and analyzing.
First, you need to monitor what users say about the topic you're interested in. The easiest way to do that is to set up a brand monitoring project. Once you create a project, the tool will collect all publicly available mentions containing your keyword.
Once the social monitoring process is over, social listening starts.
Social listening takes the process one step further. It analyses gathered brand mentions, so you're able to draw the most actionable conclusions that will help you achieve your business goals.
Social listening ads some valuable data to social monitoring, for example:
Sentiment analysis of the online mentions – you will know what people like and dislike about your online presence.
Estimated reach – you will be able to identify the best performing content and emulate the posts to reach your target audience.
Top public profiles – this feature will help you identify influencers you could work with to raise your brand awareness.
Most active sites – this will indicate where you should focus your social media activities.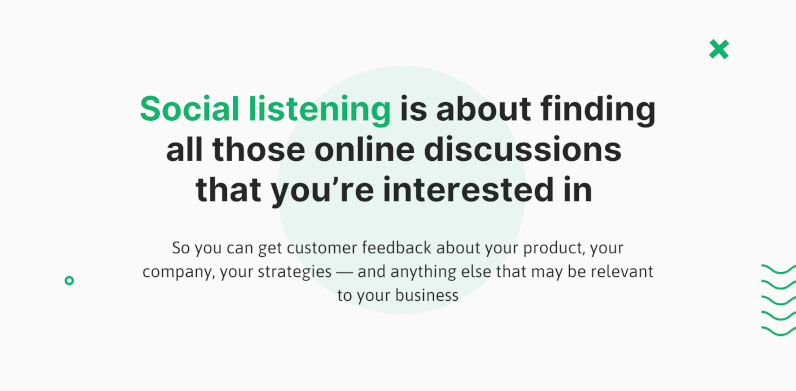 Check the video:
What is social media listening used for?
Companies use it because brand awareness is the key difference between an effective strategy vs. an ineffective strategy.
When a company has access to public mentions and conversations about their brand or product — among other topics relevant to their business — they can use this social media data to fine-tune and boost their strategies. And identify where necessary changes need to be implemented.
Brand awareness and customer opinions about your products and campaigns are crucial to creating strategies that work. Listening platforms help you with that process.
Still with me? Great!
Now, let's move into the use cases of social listening.
Purposes of social listening
The usefulness of social listening is abundant. Imagine having unlimited access to your focus group! One that consists of users from all backgrounds and every corner of the market, who openly give you candid feedback — about your brand, your product, and your strategies.
This is how you get candid feedback without disturbing your customers.
But there are much more reasons why companies use social listening strategy:
Generating leads
Customer service
Getting customer feedback
Improving or preparing a new product tailored to your potential customers' needs by implementing sentiment analysis
Customer engagement
Tracking the progress of a marketing campaign
Identifying brand ambassadors & candidates for influencer marketing
Reputation management
Competitor analysis
Content creation and distribution
Improving your customer experience
Closely monitoring social media and preparing the content your target audience wants to interact with
Increasing brand recognition
Gather more accurate social media analytics data
Start monitoring your business online with Brand24. 14-day free trial available >>
This is why it is important to listen to conversations about a brand.
How to start social listening?
The listening process is quite simple, but you'll need the right brand monitoring tool at hand. Of course, you can do it manually, but it's much more time-consuming and less effective.
It's easy to get started. The social media monitoring tools are based on a similar premise, so I'll discuss the matter based on Brand24.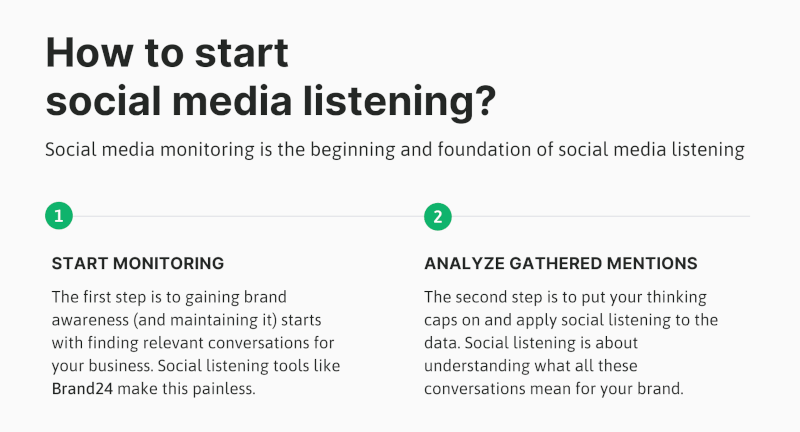 You start with creating a social media monitoring project. In the project creation wizard, enter the keywords you would like to track. Think about:
The name of your brand, product, or service
Your company hashtag
Your campaign-specific hashtag
Your CEO's name or any other prominent employee
Keywords related to your business niche.
Next, you also have to choose the online sources where the tool will look for online conversations. The broader you go, the more you will be able to analyze. The top online sources you should focus on include:
Social media platforms, including Twitter, Instagram, Facebook, YouTube, Twitch, or TikTok
News and review sites
Blogs
Podcasts
Newsletter
Other publicly available online sources
Once you monitor and analyze all publicly available information about your company, you can in-depth analyze your brand perception and social media presence.
Social listening tools will collect every available mention and analyze the results thoroughly, leaving you with some actionable insights you can use to improve our online presence.
Top 9 social listening tools – comparison
There are different social listening tools — there are enterprise solutions that offer image recognition and other fancy analytical features.
Some tools collect and analyze mentions from social media.
And lastly, there is a tool like Brand24 — an affordable option that monitors the Web and social media and offers robust analytics and reporting features.
Without further ado, here's our comparison of top social listening tools!
We've selected the best social listening and tracking tools to spoil you for choice. Whether you're looking for robust and affordable software or more advanced enterprise solutions, we got you covered!
Some tools focus on social media channels, for example, Facebook, Twitter, Instagram, or YouTube. Other tools collect and analyze brand mentions from the whole Web, including social media and other platforms.
1. Brand24
I bet you didn't expect that, did you?
Brand24 is one of the most robust and affordable social listening tools on the market.
The tool covers a wide variety of sources, including:
Social media channels such as Facebook, Instagram, Twitter, YouTube, Reddit, and Twitch
Review sites
News sites
Blogs
Newsletters
Podcasts
Other publicly available Web sources
Brand24 is a successful brand monitoring tool since it collects mentions of your brand in real-time.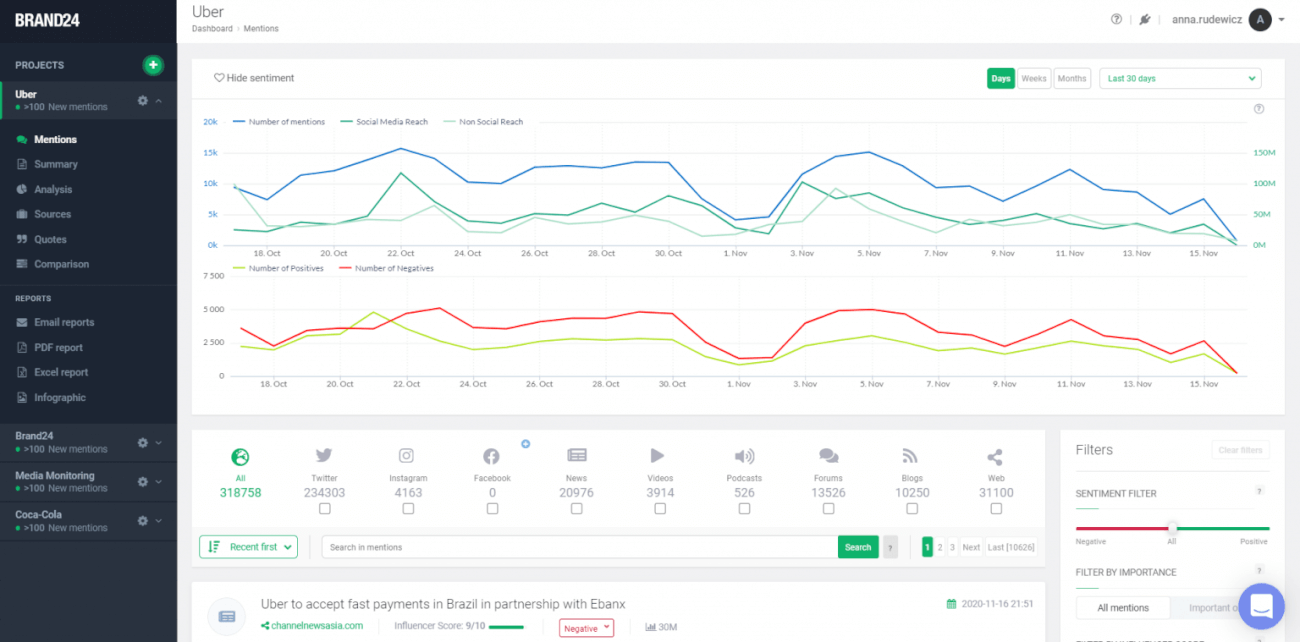 It is a web monitoring tool with a robust analytics section. The mentions are stored in a user-friendly dashboard.
Inside the tool, you will find metrics such as:
Estimated social media reach — to tell you how many people could have come in contact with your social media posts
Non-social reach — to tell you how many people have seen the posts containing your brand name outside social media
Sentiment analysis — to see how your brand, product, or campaign is perceived online
Performance of your hashtags to help you assess the results of your campaigns
The total number of likes, shares, and comments
The most popular mentions
Top public profiles talking about your brand
The share of voice
Influence score
Presence Score that helps to measure and benchmark brand awareness
Social media sentiment analysis is powered by machine learning algorithms, making it capable of delivering accurate results and enriching your business intelligence.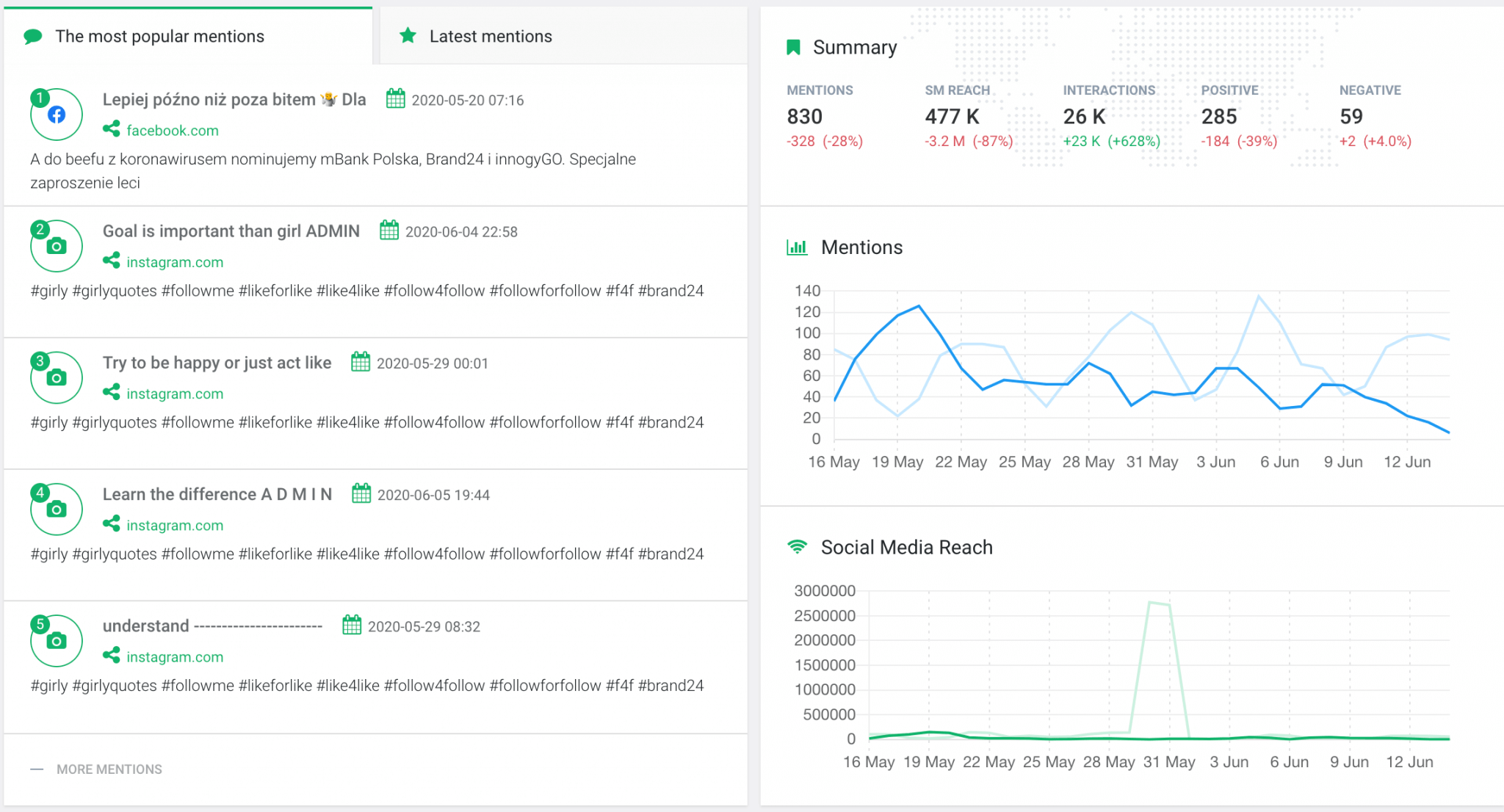 Another strong suit of Brand24 is the notification system. Every time there is a new mention in the dashboard, you can receive an in-app notification, a mail, or integrate your account with a dedicated Slack channel.
What's more, Brand24 offers customizable PDF reports. You can choose what mentions and analytics you want to include in your media monitoring report, and the tool will automatically generate one.
Brand24 collects publicly available mentions and reports them in real-time.
Pricing
Brand24 offers a 14-day free trial.
It is very flexible since right away, it offers 4 pricing plans that you can choose from, depending on your needs, expectations, and budget.
Brand24's price starts at $49 a month.
2. Brandwatch
Brandwatch is an enterprise-level social listening tool. It offers a wide range of functionalities, but it is one of the most expensive tools on the market.
It is a holistic tool, that covers not only major social media channels, such as Facebook, Twitter, Instagram, Youtube, or Twitch, but also blogs and news sites, forums, and reviews sites.
Brandwatch offers features such as:
Geolocation
Image analysis
Powerful demographic data to learn more about your audience
API access
Industry trends
Brandwatch's old interface. It has changed and is definitely more user-friendly now.
Besides that, Brandwatch also offers a data visualization platform called Vizia. Vizia helps you visualize the real-time data, and turn complex information into easily understandable insights. Brandwatch is much more than just a tool to collect competitors and brand mentions.
The web monitoring tool will give you ready to implement insights that could boost your online business presence, help you make more informed decisions, and, ultimately, increase your market share.
Pricing
But for all the insights and knowledge, you have to pay.
Brandwatch does not offer a free trial period, and there is no information about its pricing on the official website.
One of the sources says Brandwatch starts at $1,000 per month for 10,000 mentions.
Here is an article about Brandwatch alternatives. If you don't want to spend that much on a social listening tool, you may want to check it out.
3. Tweetdeck
Tweetdeck is a social listening software dedicated solely to Twitter. The tool collects and analyses social media mentions only from this platform.
Tweetdeck helps you manage your social media presence, especially if you have to manage many different profiles within one platform.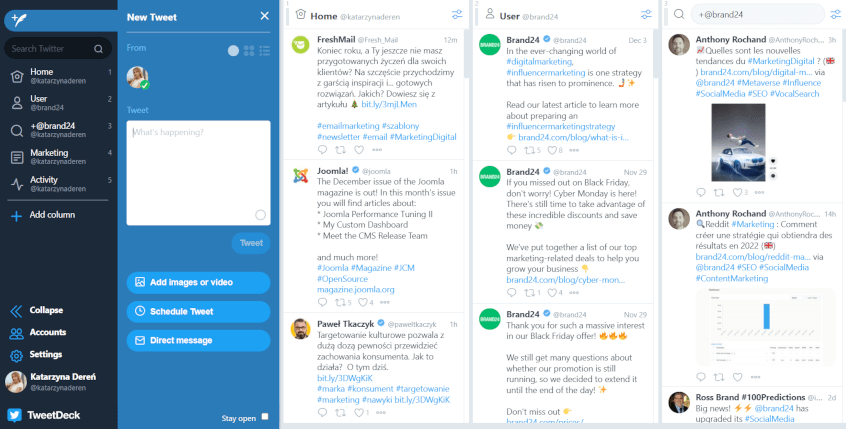 Tweetdeck shows you all the tweets and Twitter feed aggregated in one dashboard. You can get an instant overview of your news feed, private messages, and trending topics.
Tweetdeck is a great tool, but it doesn't offer any advanced analytics, for example, social media reach or Twitter sentiment analysis.
If you want to focus your social media strategy solely on Twitter, Tweetdeck is your tool of choice.
Pricing
Tweetdeck is a free tool.
4. Buffer
No social listening solutions listicle will be complete without Buffer! It is one of the best social media management tools on the market.
Buffer will help you manage your social presence across different platforms, including Facebook, Twitter, Instagram, and other social networks.
With the help of the tool, you can easily schedule social media posts and engage with your audience. It also offers one inbox for all your social media messages.
It also offers an audience behavior unit that will help you create better targeted social media campaigns. The mentions are collected in real-time.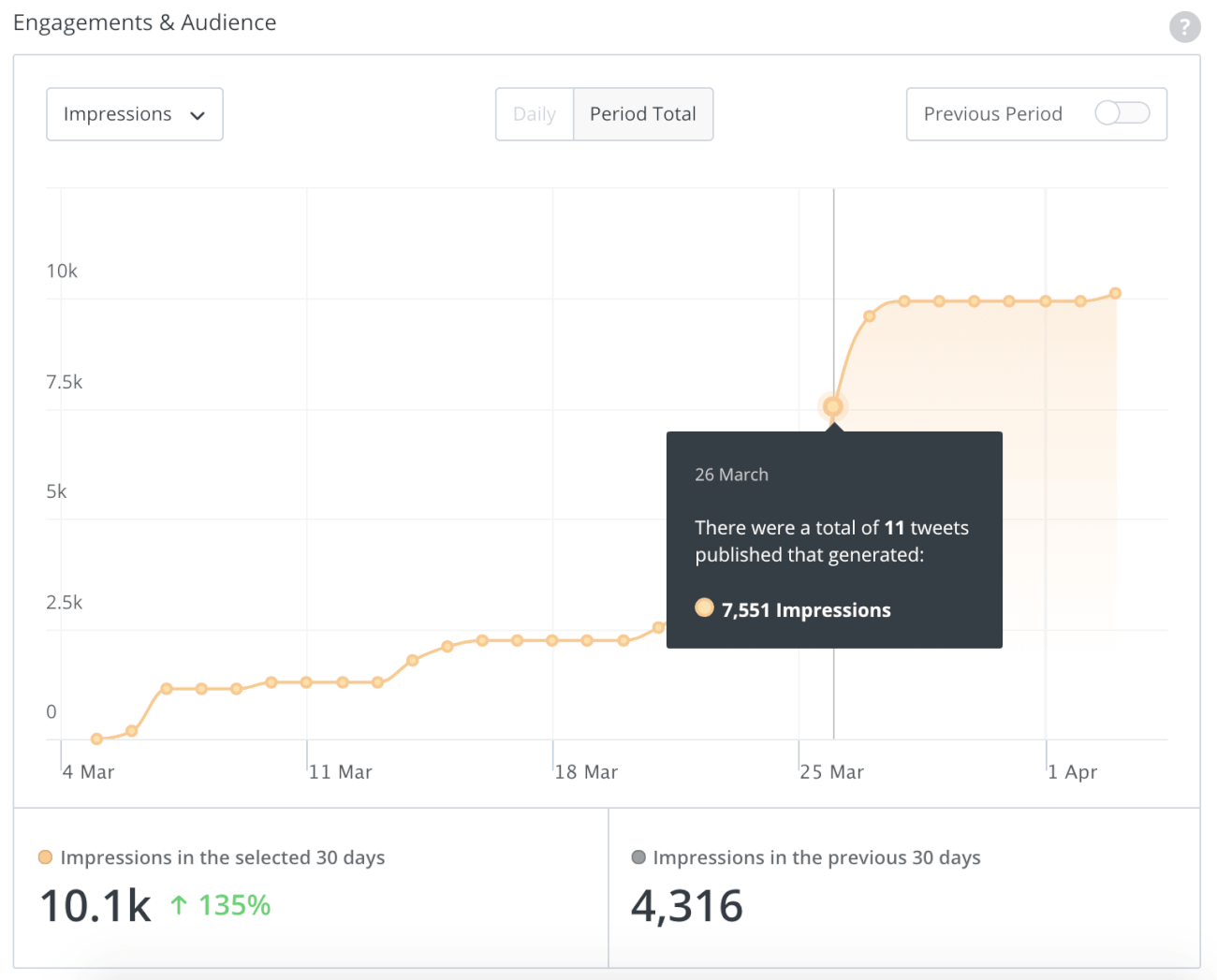 Pricing
Buffer starter plan costs $35 per month and offers a 2-weeks free trial.
5. Sprout Social
Sprout Social is another social media management tool with a social listening twist. The tool collects brand mentions across major social media networks.
It offers social media automation that will help you manage your online presence and get the social listening insights you need to boost your business.
Sprout Social is the tool of choice if you want to know more about your social media users.
With Sprout Social, you can manage your presence on Facebook, Twitter, Instagram, LinkedIn, and Pinterest.
Besides social listening, Sprout Social also offers social media management and publishing services. Because Sprout Social offers a wide range of features, it is one of the best sm management platforms on the market.
Pricing
Sprout Social offers a 30-day free trial, which does not include a Listening feature.
Its starter plan costs $99 per month.
Here is a post on Sprout Social alternatives if you are interested in trying different solutions.
6. Keyhole
Keyhole is social listening and social media management tool.
It lets you track the performance of your accounts through various social media platforms and provides the data necessary for making informed decisions. The tools collect mentions in real-time.
Keyhole also offers social media analytics, letting you take a closer look at sentiment analysis, keyword clouds, and geographical data of your mentions. These features let you know more about your target audience, which results in better marketing campaigns.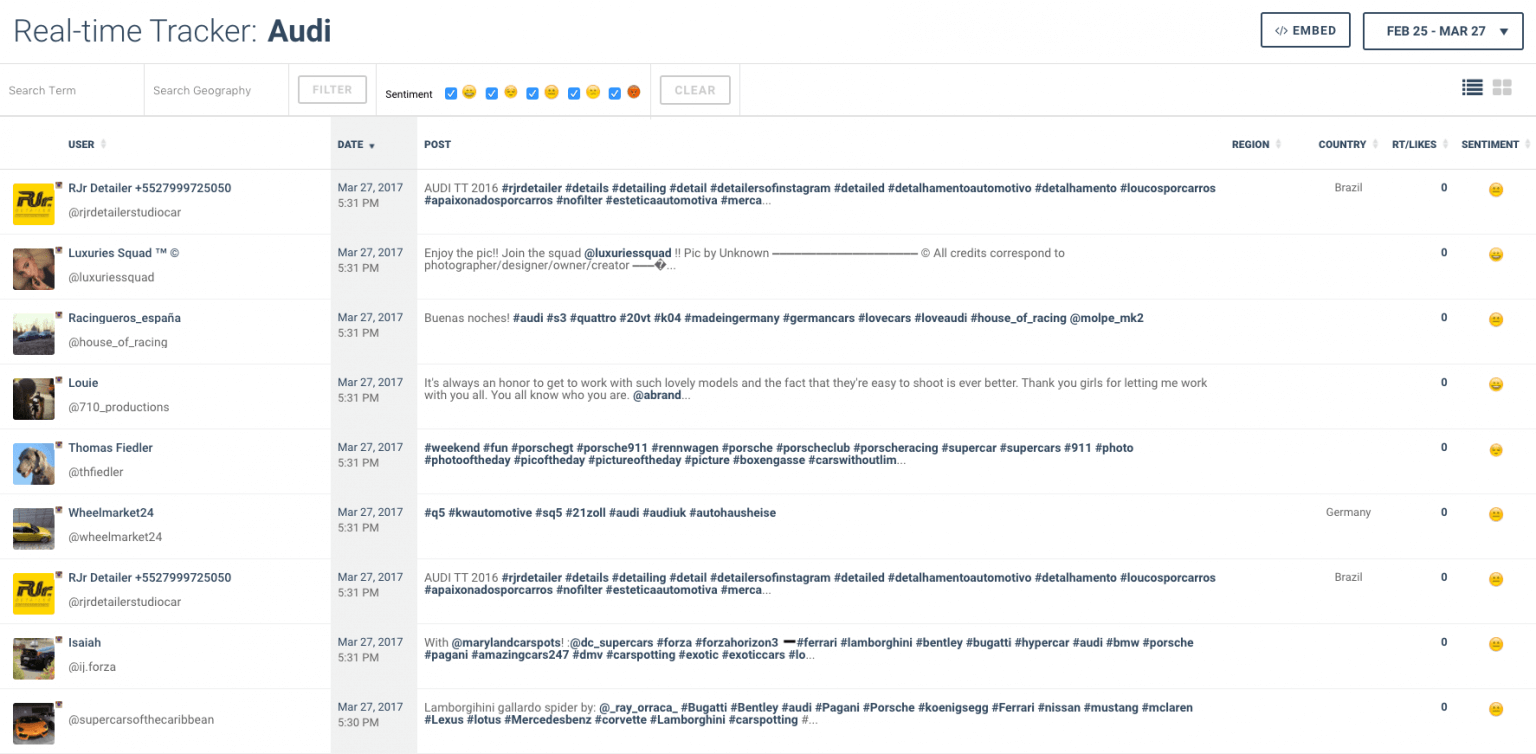 One of the strong features of Keyhole is hashtag tracking. You can track the performance of your hashtags across different social networks. The data can be used to measure the results of your social media campaigns.
Pricing
Keyhole's social listening plan starts at $199 per month and offers a free trial.
7. Hootsuite
Hootsuite advertises as a social media monitoring tool, and it lets you tracks trends, topics, and social media profiles. That way, you can easily see what is going on in your industry niche and get to know your audience better.
Hootsuite Insights cooperates with another social listening solution — Brandwatch. Once you subscribe to Hootsuite, you'll be able to access audience insights that will help you make more informed decisions. Hootsuite Insights collects mentions in real-time.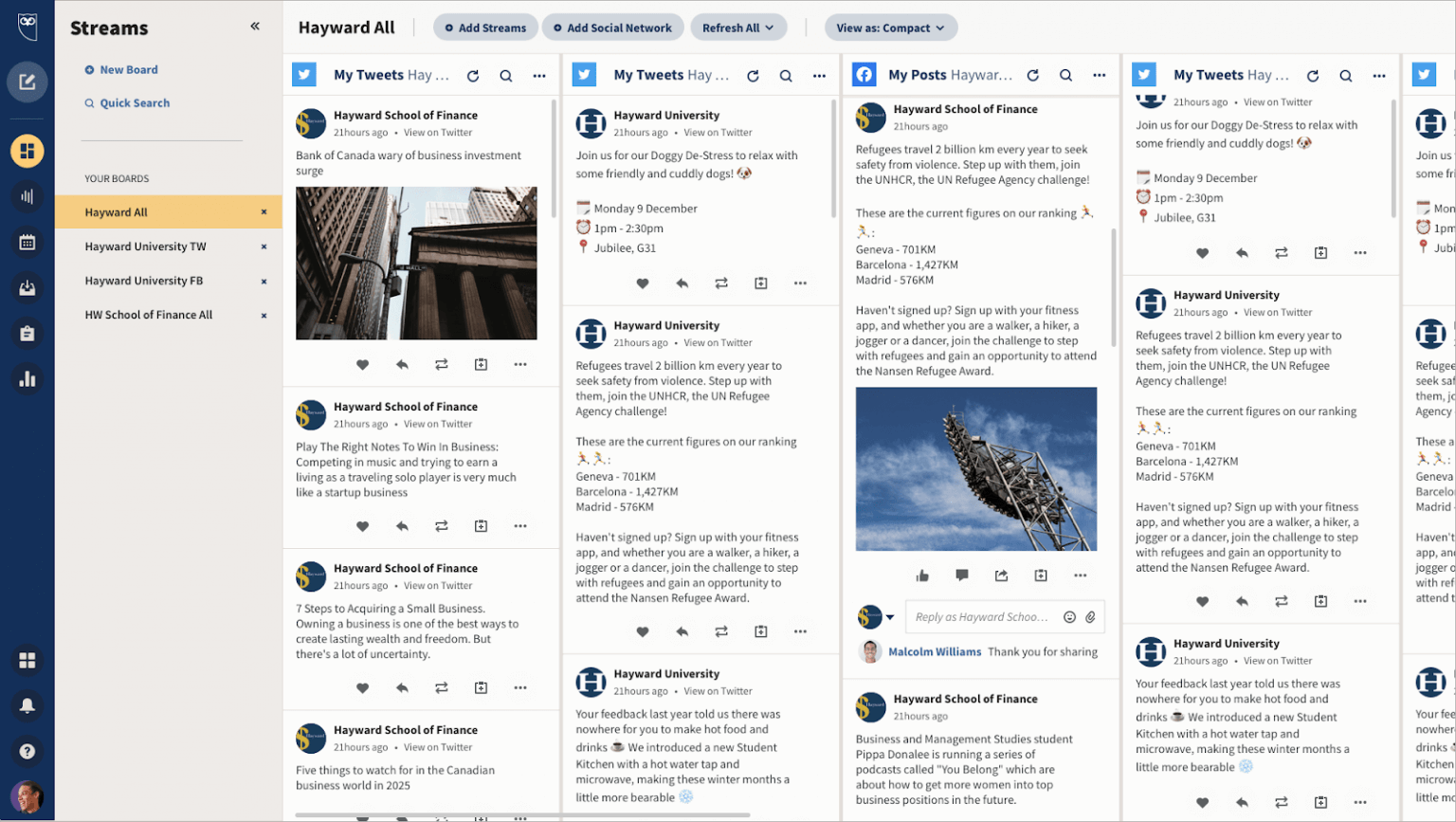 Hootsuite insights platform allows you to:
Use a powerful set of filters (date, demographics, location)
Identify industry leaders
Discover sentiment around your brand
Get instant notifications once a keyword is used online
Pricing
Hootsuite starts at $19 per month and offers a 30-day free trial.
8. BuzzSumo
BuzzSumo is a tool dedicated to improving your social media marketing.
The tool will discover top-performing mentions, find influencers, and monitor your predefined keywords. If social media marketing is important for your brand, take a closer look at BuzzSumo.
We're interested in the last component.
You can create alerts and get notifications once a keyword that matters is used online.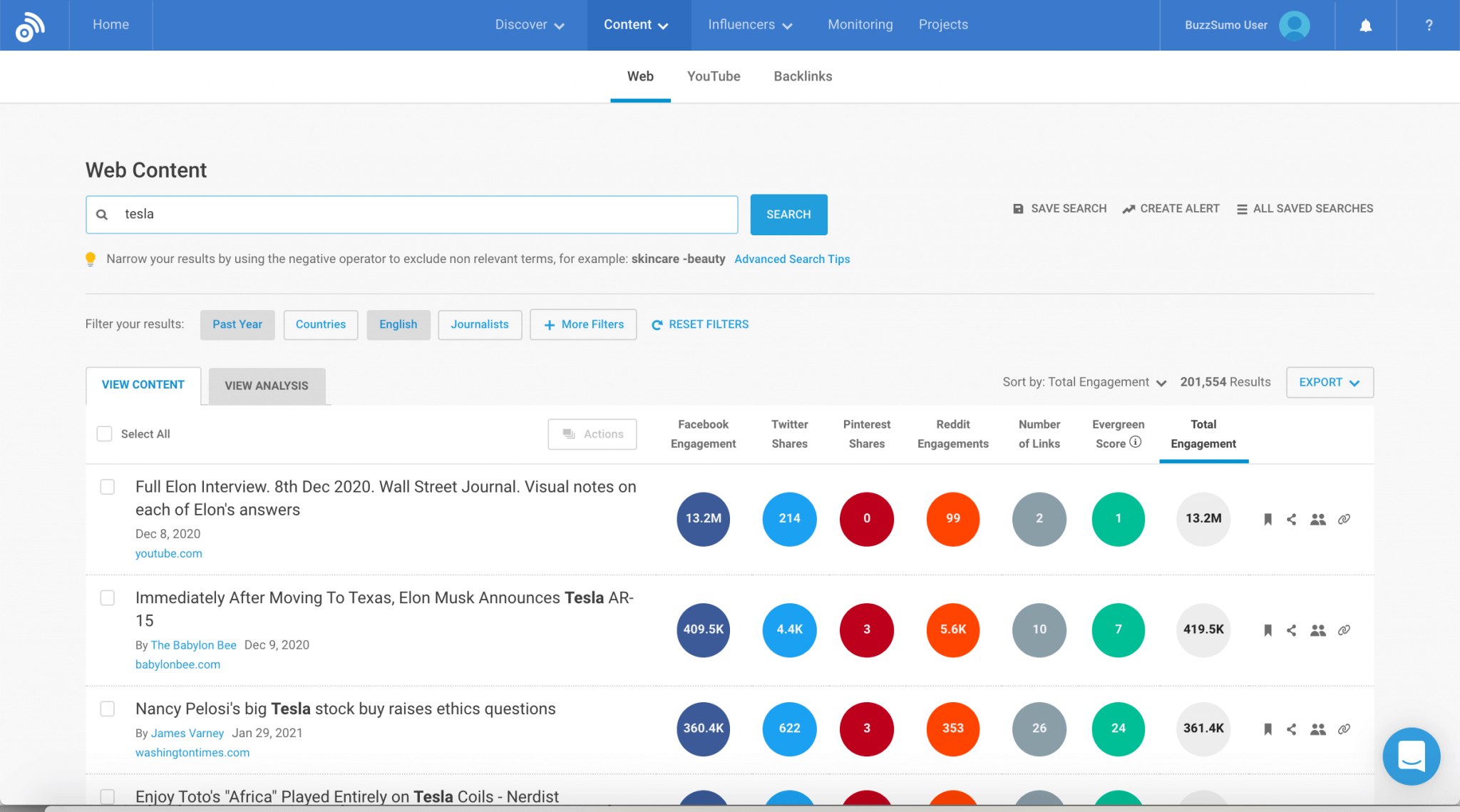 But BuzzSumo is mainly a social media intelligence app. One of its strongest features is the assessment of shared content. That way, you can see what type of content performs best and make sure you provide content tailored to your audience's needs.
Pricing
BuzzSumo starts at $99 per month and offers a 30-day free trial.
9. HubSpot
HubSpot is a go-to platform when it comes to social media management. The main aim of the HubSpot interface is to find the optimal way to grow your business using social networks.
Part of the growth hacking is social listening.
HubSpot lets you write and share new posts, respond to comments straight from the tool. One of the strongest features of HubSpot is the ability to nurture leads. If your main aim is to grow your client base through social media, HubSpot offers some interesting solutions.
Pricing
Hubspot's social listening starts at $50 per month.
12 key benefits of social listening
Using social listening data can be a bit challenging. Here are a few important use cases that show how it can help you increase customer satisfaction and improve your brand strategy.
Let's take a look at the table of contents and find the most beneficial solution for your business.
Improve your customer service
Find new leads
Track and measure your marketing efforts
Increase customer engagement
Access customer insights
Identify influencers
Protect your brand reputation
Reveal purchase decision factors
Prepare content tailored to your audience needs
Find top talents for your company
Back up your marketing and competitors research
Measure the value of your organic search.
Try Brand24, the social listening tool, for free!
1. Improve your customer service
Customer service is a very popular application of social listening. The Internet has become the place for people to rant about poor experiences with products and services. Furthermore, they look for solutions to problems and commend brands on good service, etc.
It's just easier for customers to tweet at a brand on Twitter instead of trying to reach an automated call center… and then get put on hold for hours.
Social listening gives brands a big leg up when it comes to taking care of clients who've encountered problems with their product.
It's a simple fact; people hate waiting almost as much as they hate to be ignored. The sooner you can provide service to your customers, the better.
Social media monitoring software (like Brand24) collects questions and complaints about your brand as soon as they're posted, so your customer service team can handle any problems as soon as possible.
2. Find new leads
Social listening also helps you gain new clients by generating sales leads. The key is to listen for mentions that are relevant to your goals.
In this case, it's a good idea to monitor several types of keywords, including:
Your product or service,
Particular product features,
Specific industry terms related to your business,
The name of your brand or company,
Your competitors.
Mentions monitoring allow finding potential leads who have an active interest in your type of product or service.
Nowadays, it is so easy for customers to look for online recommendations and search for advice on the web before making any purchase decisions.
In the span of just one month, Brand24 collected almost 45,000 mentions that included the question "where can I buy." There is enormous space for brands to join in on the conversation and suggest their products to prospects who really need them.
Create your first project for free! Discover the power of social listening!
We use Brand24 ourselves to find people who are looking for recommendations for good social media monitoring tools.
Our customer service team then does a great job of interacting with these users to let them know about Brand24. This is one of our best methods of identifying new leads and has one of the highest conversion rates, too.
Why? Because we reach out to people who have a real need for our product.
3. Track and measure your marketing campaigns
Nowadays, it is pretty common to see dedicated hashtag campaigns. Especially since it has proven to be one of the most effective ways to increase both reach and user engagement.
Monitoring online conversations on different social networks will help you gather the data that could benefit your brand's marketing campaigns.
Social media tracking tools automatically calculate reach, engagement, sentiment, and other metrics useful for assessing your marketing efforts.
Moreover, you can easily export the data to show your customers the value of social listening.
4. Use social media listening for customer engagement
These days, more brands than ever are engaging in online conversations with their fans and clients. Once a user posts something on the Internet that is related to either a brand or an entire industry, social media managers are there to interact with the audience.
This is a great way to increase customer engagement on the Internet, extend your online reach and win over your audience. If your response is timely, intelligent, and humorous yet consistent with your brand image (you should not be making jokes if your company's profile is very formal), you can easily grab your audience's attention.

Uber or Starbucks, you should have engaged with this lovely customer, but you left them waiting for your response.
5. Access customer insights
Today's consumers are more open to sharing their opinions and reviews about the products or services that they use (or maybe they just have more avenues of doing so now).
Naturally, the easiest way to share is on the Internet, where social media users can post about their experiences using different products and brands — and automatically share these posts with many other consumers.
Frequently, this is also where users provide candid suggestions and feedback on these goods and services. The Internet is a powerful source of valuable customer insights.



6. Identify social media influencers
Collaborating with influencers can bring you measurable results. Of course, it's best to work with influencers who are genuinely interested in your company or its value proposition.
How to find them? With the social listening tool, you'll be able to discover influencers who would be a good match to work with your brand.
If you are listening for mentions of your brand/topic across the Internet, you can see what kind of people post about these topics inside the Brand24 Analysis Tab. The top profiles talking about your brand may be potential influencers that you can work with. Some of them may have cultivated significant followings.
However, just because someone may have mentioned your brand in their posts doesn't necessarily mean that he or she will resonate with your brand.
When searching for influencers, it's important to also refer to the data from at least one more column inside the Analysis Tab – Share of Voice (Voice Share in the image). This metric considers the social media reach + total number of mentions of each profile. These factors inform us how big the role of these profiles is in discussions about a brand on the Internet.
If a user has a high Share of Voice for your brand mentions, it means they generate more discussions about it. This indicates that they could be good potential brand ambassadors or influencers.
You can also filter by Influencer Score in the Mentions (or Sources) Tab to view profiles according to influence.
Find influencers with Brand24!
7. Protect your brand reputation
This is the most common and obvious social listening use case and a significant one as well. Very often, fast response to a negative review or fake comment can prevent a brand reputation crisis.
For instance, brandjacking is when someone impersonates a brand online, often with malicious intent, and it can cause a lot of damage to your reputation if not spotted early on. These virtual imposters can post anything they want to hurt your business and make you look bad in front of your customers.
If you discover a fake profile like this early enough, you can immediately rectify the situation and nip social outrage in the bud.
This also concerns unsatisfied customers who complain about your service or product. If you can spot their public comments before too many people see them, you can try to solve the problem before it gets out of hand.
8. Reveal purchase decision factors
Learning which factors have the greatest influence on customer purchase decisions is possibly the most valuable customer insight you can derive from social listening.
Recommendations that are left on web forums and other online platforms often include detailed descriptions of a user's experience with a product or service, which can influence consumer decisions.



9. Prepare content tailored to your audience needs
Social listening is widely used by many bloggers who are looking for content inspiration. All bloggers and writers have probably struggled at some point with finding ideas on what to write about.
Social listening tools can help you by providing insights into what is trending on the Internet and what people want to read about.
It's a fairly simple process. You just need to monitor relevant keywords. Naturally, keyword selection depends on your industry and the topic of your blog.
For example, let's take a blog that helps companies find solutions to develop their business. In this case, we should think about the catchiest key phrases related to this topic. Which tags and hashtags do they use? What are the most common words in this field?
In this case, we are interested in "growth hacking," "grow your business," and "business growth" (separated with commas), which often appear as buzzwords.
Don't forget to include these phrases also as hashtags!
One of our clients — Veeu Network, a digital video company, uses social listening precisely in this area. Before writing any scripts for new videos, they first dig into recent social media discussions to find the most relevant topics of the moment according to their fans.
Check out this social listening case study: Veeu Network's video strategies.
Start your free Brand24 trial!
10. Find top talents for your company
Human Resources is another department that can benefit from this research method. People post about everything on Internet, including when they're searching for a job. HR specialists who know how to use social media as a recruitment tool are able to find potential candidates to fill an urgent vacancy in less time.
You can easily set up a project to monitor phrases like "looking for a job," "I need a job," etc. Results can be curbed to specific geographic regions and industries by adding 'Required keywords.'
Once Brand24 collects some mentions, you're ready to start reaching out to potential employees. Respond to their tweets or posts on LinkedIn, or send private messages asking for more details about their personal background.
11. Back up your marketing and competitor research
Do you plan to introduce a new product or implement a social media campaign? Or do you want to know what your competitors are up to?
Social listening will help you spot all mentions that are relevant to your business. And that includes listening to conversations about your direct and indirect competitors.
You can derive a lot of information about your target group based on the data that you monitor, including user demographics, preferred online channels, and when your audience is most active — not to mention their levels of engagement, the context of public discussions, and much more.
This data can help you design the most effective marketing strategy. You can learn where you should implement your campaign, the best days/weeks/months to run it, the best hours for posting on social (visible inside the Brand24 Excel report).
Also shows you the kind of language you should use in order to convey your message in a way that will resonate with your prospects and clients.
Of course, there's much more than you can learn from media monitoring data.
12. Measure the value of organic reach
Measuring the value of your organic reach is especially useful for agencies and CMOs that need to report the results of their strategies to a board of directors — in the form of tangible numbers.
You cannot precisely estimate how many people have made a purchase decision after watching a TV commercial. However, if you display the same ad online, you can collect precise information about conversion rates at each step of the customer acquisition process.
An effective social listening tool, like Brand24, can help you estimate the value of online talks about your brand. Taking into consideration factors such as: the size of the profiles that mention your brand, and the reach of their content + the number of interactions — you can learn how many people have potentially seen mentions regarding your brand.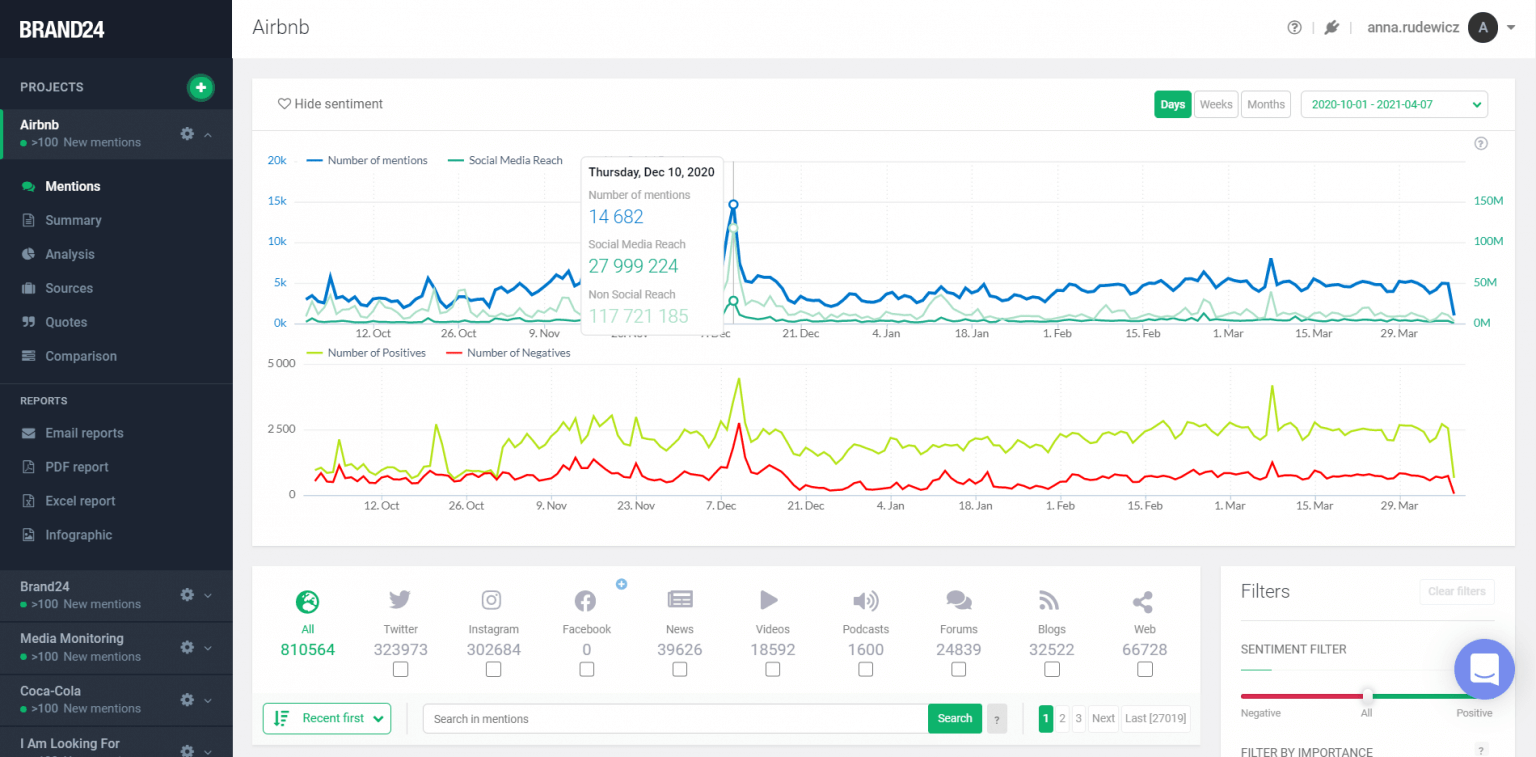 Using this data, you can effectively calculate the estimated value of these mentions and discussions regarding your brand.
The Estimated Reach is equivalent to the amount of exposure that you receive from your online marketing activities.
How to measure social media presence?
Another interesting metric that Brand24 came up with is Presence Score, which helps you find out if a certain enterprise or topic is popular online and measure brand awareness.

Social listening shows you how many people have encountered online content about your brand, campaigns, and products. Furthermore, it helps you estimate the online advertising value (AVE), which is the real market value of an asset in terms of the average market cost of advertising after discounts.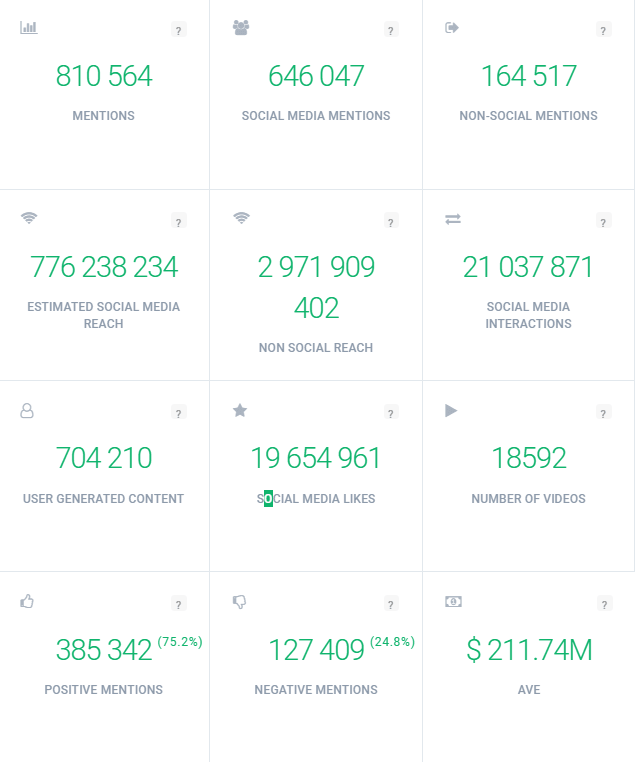 Try Brand24 for free now and grow your business with social listening!
Social listening case studies
After learning some facts and theoretical knowledge about social listening, we can now dive into case studies. How do popular companies use social listening for their growth?
Virgin Trains helped a passenger in need and proved their customer service is spot-on!
One of the best examples of how social listening can improve online customer service has to be this one from Virgin Trains:
A passenger was on a train headed to Glasgow from Euston when he got up to use the restroom. Just minutes later, he found himself in an urgent situation. He'd run out of toilet paper just when he needed it most. What would you do if that were you?
This passenger decided to tweet about it, unabashedly informing the company about his dilemma.
Virgin Trains quickly tweeted back, promptly taking care of the issue both online and onboard.
Somersby used social listening to measure the effectiveness of the online campaign
Somersby, a leading brand of cider from Danish brewing company Carlsberg Group, is an excellent example of using social listening to support their marketing campaigns.
They've designed numerous hashtag campaigns that have successfully engaged fans, and amplifying their success by building strong relationships with bloggers and influencers.
For instance, when they introduced a new variety of Somersby to the Polish market, they worked with dozens of bloggers and encouraged people to share content (especially photos) with a dedicated hashtag.
They used social listening to track this campaign and check the sentiment towards the brand. Thanks to this method, they were able to see that the campaign improved the overall brand sentiment towards Somersby and gained tremendous social media reach.
Beyond that, the new beverage became a bestselling beer in its category and the brand executed what became an annual sales plan in just 4 months.
Check out another case study: Somersby Social Engagement Case Study
PlayStation increases audience engagement
Take a cue from PlayStation's social media monitoring strategy and see how they join online discussions to increase audience engagement and increase brand loyalty.
PlayStation uses social listening to find conversations that are related to gaming, gamers, and the brand itself. Then they invent creative and funny responses to engage their audience and encourage gamers to play on the PS console.
Final thoughts
We've covered a lot today, so let's review!
Social listening is about awareness. Brand awareness is the key difference between strategies that succeed vs strategies that fail.
Social media monitoring and listening should be an integral part of your business strategy. The process will help you identify the crucial online mentions that will help you improve your product, service, or brand.
Moreover, social listening is a versatile process. Many different departments can use the insights gathered during the process. Dedicated tools make social listening a piece of cake. Ready to try it?
Get the data you need from your social media monitoring tool and apply your skills to gain full awareness of the effectiveness of your strategies. It's the most efficient way to find out what works and what doesn't, which is exactly what companies need to succeed in today's fiercely competitive conditions.
If you want to know more about social listening, take a look at our free course!